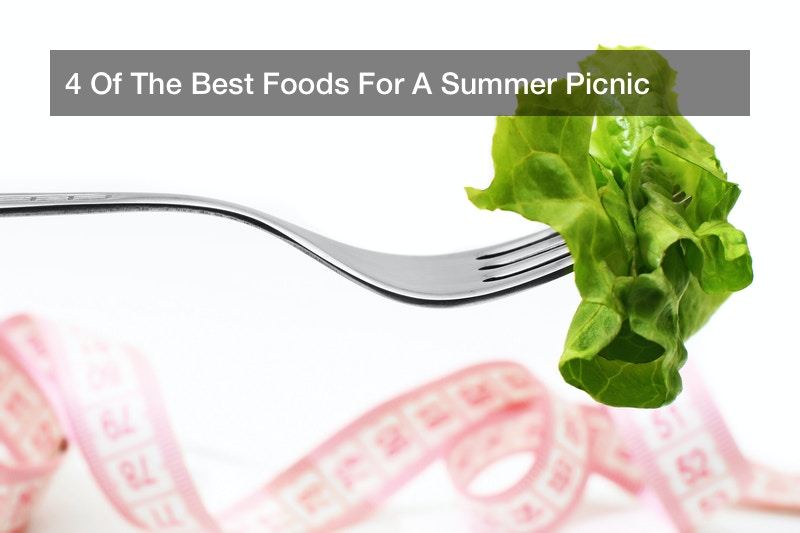 4 Of The Best Foods For A Summer Picnic

It's summer, which means that we all want to spend as much outdoors as possible. Undoubtedly, this is going to be something of a different summer than what most of us are used to. With social distancing still encouraged across the country, a lot of Americans are not yet able to take advantage of a lot of their typical summer activities. Though the Disney parks are expected to open up this summer, they won't do so until July. Many other theme parks remain uncertain about when they'll be opening their doors, and the same goes for lots of other summer staples. A lot of public pools are remaining cautious about opening; and for that matter, many summer camps are not going to be available, at least not at the capacity that they would be otherwise. This is why a lot of people, and parents, in particular, are seeking out activities that will help them pass the summer doldrums. Why not look back at one of the most classic summer pastimes there is? A picnic might not initially excite you. But if you include the right recipes, you'll be surprised by how much fun it can be.
Of course, we're going to get into some of the best summer picnic foods possible. But you should also remember that there are other keys to planning the perfect picnic. The most important thing, of course, is going to be the location. You'll want to pick somewhere that includes shade, in case the sun gets too bright; and you'll probably want to stay away from the water. As much as a lakeside or riverside picnic may sound ideal, there tend to be more bugs beside the water, and they'll naturally be drawn to your food. You may also want to think about bringing along bug repellent, though depending on where you live it might not be much of an issue. If you or a member of your family has allergies to certain bugs, you should always bring a repellent specific to those bugs no matter what. Bee allergies can be particularly problematic, as they're potentially deadly; you'll want to get in touch with bee control services if you can't find specific bee repellent on your own. Nonetheless, you don't need to go far for a great picnic. You could even host one in your own backyard! What really makes a great picnic, more than a classic basket or scenic location, is awesome food. So let's dive into some of the best foods to prepare and bring along for a picnic.
1. Chicken And Waffle Sliders
Chicken and waffles are among some of the most iconic southern foods, with a country spin that has made them popular for decades. But at first, they might not seem like one of the best summer picnic foods. After all, chicken and waffles are usually served together on a plate, and require the use of a fork and knife. Most of the best summer picnic foods are easy to eat and don't fall apart easily. The last thing you want during a picnic is messy food. That's why sliders are such a great compromise. Sliders can be easily picked up and eaten as finger food, but give you the same great flavors that you want from chicken and waffles. And of course, chicken and waffle sliders are perfect for picnics because they can be served for breakfast, lunch, or dinner and offer a perfect combination of savory and sweet. As less than half of Americans eat breakfast, despite 93% of them agreeing that it's the most important meal of the day, you might as well use your picnic to get breakfast in. So, how do you put these sliders together?
We recommend going for something of a Nashville hot flavor for the chicken. The heat of the chicken will play amazingly against the sweetness of the waffles. Chicken and waffles sliders really aren't complicated to make. You should use chicken thighs, cut them into small chunks, and coat those chunks in flour. Then, prepare a mixture of milk, eggs, and hot sauce. Dip your chicken in the egg mixture, then back in the flour before frying it in canola or vegetable oil. You can then brush the fried chicken with a mixture of cayenne pepper, paprika, chili powder, garlic, and sugar to add an extra kick. With the chicken done, you can turn to your waffles. Using a waffle make and waffle batter, you'll make waffles just as you usually would, then cut them into pieces about the same size as our fried chicken bites. Dip the waffle pieces in syrup, but perhaps wait to do that part until you're about to leave for your picnic. This will keep the waffles from growing too soggy. You can then stack these components onto the slider buns, and pack them up in a plastic container for your picnic. Keep in mind that the one drawback of chicken and waffle sliders is that they can be a little sticky. Sticky foods can attract ants, and therefore you'll want to make sure that your sliders are carefully packed away, and out of the reach of bugs.</p.
2. Pizza
Pizza may not be on any of the more classic lists of the best summer picnic foods. But there's a lot to love about bringing pizza to a picnic. After all, pizza comes in a lot of different flavors, and you can essentially make a pizza that will suit almost any dietary preference in this day and age. Even if you're picnicking with someone who can't eat gluten, no problem! Just go for a cauliflower crust. You don't even have to make your picnic pizza on your own. You could order it from a pizza shop, or in the case that you'd like to really put in as little effort as possible, heat up a frozen pizza ahead of the picnic. But there are certain pizza recipes that are more geared towards the summer, and therefore picnics, than others. A good summer pizza is light, usually with a thinner crust and a lot of vegetables. However, meat lovers need not stress. We have a summer pizza recipe that comes with a carnivorous component; however, you also don't have to include the meat ingredients if you don't want to.
The great thing about making your own pizza is that it's a lot less intimidating than you might think, precisely because most grocery stores now offer pre-made pizza dough. We recommend using that in this case and rolling out the dough into a thin crust. Thick crusts aren't ideal for a picnic, as they leave a heavy feeling. Thin crust pizza is also less messy to eat, which means that you won't have to worry about attracting bugs and taking care of insect removal during your meal. To ensure that the crust is golden and crispy, brush it with olive oil and bake it before you add the toppings. Try using ricotta for the cheese, as this will increase the lightness of the pizza. Spread the ricotta over the baked crust, then top it with cherry tomatoes, zucchini, and basil. You can cover this with a mixture made up of red wine vinegar, salt, pepper, and perhaps some red pepper flakes. If you do want to add meat to the pizza, consider salami, prosciutto, or maybe both! Otherwise, the pizza can be left vegetarian. This type of pizza will give you all the flavors you're used to, but without the thick tomato sauce or gooey mozzarella cheese. Pizza can be easily eaten during a picnic, and it doesn't require a lot of cleanup.
3. Barbecue Chicken
Of course, we can't offer up a list of the best summer picnic foods without including barbecue chicken. A lot of people, when planning a picnic, feel like they can't bring barbecue chicken along. It's one thing to sit in your backyard with chicken, enjoying your own landscaping; but if you want to drive a while to picnic elsewhere, the chicken may lose some of its freshness. After all, if you're traveling with barbecue chicken you'll likely need to prepare it ahead of time, as it can be something of a time-consuming process. However, depending on the location that you choose, you may very well be able to make your chicken during the picnic itself.
A lot of picnic spaces actually offer cooking equipment so that you can make your food there. If you do happen to find one of these spaces, you may want to use one of the available grills to make your barbecue chicken right there. That way, you won't lose out on the fresh flavor and will be able to prepare your chicken in a convenient way. It's really not that complicated a process; but as previously mentioned, properly barbecued chicken is time-consuming to make. You may very well spend up to two hours grilling the chicken, as the barbecue process is meant to be done slowly and at low heat. Traditional grilling, on the other hand, is at high heat and is done quickly. If you're not really up for barbecuing your chicken at your picnic space, grilling could be a great compromise! After the initial sear is done, the barbecuing process isn't really that difficult and largely requires monitoring the chicken. Different chicken parts may cook at different rates, as more meat will probably equal a longer cook time. One of the reasons why barbecue chicken is considered one of the best summer picnic foods is that the chicken can be easily picked up and eaten like finger food. With that being said, barbecue chicken is definitely going to be one of the stickier types of chicken. Keep it covered on the grill as it cooks; the last thing you want is for some stray bark dust to end up on your meal. Of course, the key to a good barbecue chicken recipe is the sauce itself. But that's really up to you! The chicken can be coated with your favorite sauce one it's cooked, with some leaning more towards the savory and others being sweeter. It gives you a lot of options!
4. A Picnic Salad
Salads are among the most classic types of the best summer picnic foods, and with good reason. For one thing, they simply go with the concept of picnicking. While you're enjoying the great outdoors and smelling the flowers, you're also taking in your fair share of leafy greens. It makes sense! Salads can easily be kept sealed and are easy to eat during your picnic. Of course, there are a variety of different types of salad. Not all of them are simply made up of vegetables and nothing else. Pasta and potato salads are also popular choices for picnics. Our favorite type of picnic salad is light yet flavourful at the same time!
To start, cook at least two cups of corn, depending on how many people you want to serve. You'll combine this with shredded Monterey Jack cheese, chopped celery, halved cherry tomatoes, and chopped green onions. This will act as the basis for your salad; your dressing will be a mixture of cider vinegar, sugar, mustard, and salt. You'll layer this over the salad, then refrigerate the salad until it's finished. This type of fresh, flavorful salad is one of the best summer picnic foods you can possibly prepare!
The best summer picnic foods may vary somewhat, as every person has different tastes and favorite foods. However, this summer might be a great time for you to try new foods as well! Get creative with your picnic recipes.
Everyone wants to go back to their old routines, and that's understandable. But until then, you can try to spice up your same old routine of home and lawn care with some of the best summer picnic foods possible. Dig the classic picnic basket out of your closet, and pick out your most attractive picnic blanket before heading out. Don't forget to bring along your camera for photo ops! Ultimately, we might be heading into an odd summer, but it's going to leave us with memories that we're happy to have.